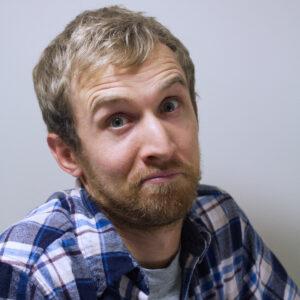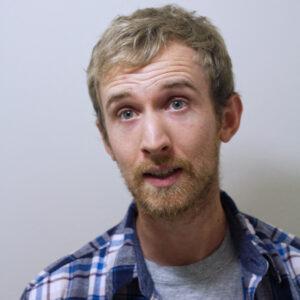 I've always had a creative spirit, so forming stories in my head was a common thing, even before I started writing. I used to shape my ideas around movie/TV since I was going to school for film and video. I decided, though, that school was not going to help me find a job and ultimately decide my career, so I dropped out (eventually I worked 2-3 years for a company, making demonstration videos).
I dropped out of college at the end of 2012, but it wasn't until 2016 that I started writing. The idea of my first book started with a picture I drew (a drawing which the book cover will be designed around). At the time (2013), I was living in a house church, which was having some internal problems, and I drew a picture as a way for me to process what I was feeling because of the strife around me. A few years went by, and eventually I left the group. At this point, I was pretty emotionally destroyed–confused with feelings of love for the friends I had made, and division from hurts that had formed. I decided that I needed to start new, to rediscover my identity away from this group.
Afterward, I needed to emotionally processes what I had just left. I had a story idea from a picture I drew, and used it to start writing. My experience and observations informed the themes of the book. At the time, this was a much better approach for me to think, and separated my pain/unforgiveness from interfering with the truth. I did grow into forgiveness, and the story shaped into something I didn't fully expect:  a full novel.
Only one person read the 1st draft, and his painful comments were enough to shape improvements for the next. I gave my 2nd draft to four people, but only received feedback from two (maybe three, I can't remember). The input from one person informed most of the changes, however, to the 3rd draft. By the 3rd draft, the story was shaping quite nicely, and I had really found some sense of a writing voice.
By the time the pandemic came around in 2020, I had self-published two books in The Inevitable series. But as the culture around me grew increasingly depressing, I needed a serious change in mood. So I started writing a comedic story, which turned into Hammer and Wails. Writing dark comedy was rather enjoyable! It was so enjoyable, that I have essentially ditched my other writing projects to focus on making it a true success.
What's my writing process?
I do most of my writing at night, between the hours of 9pm to 12am. Even when I don't have work during the day, this is still my most productive time to write.
Ideas come in different ways, but ultimately I form important story elements in my head, then write them down as notes. Knowing the story needs to have those elements, and reach certain points, I write the story around that. It's like an unorganized, very rough outline. Then it's filling in the blanks as I write, letting characters determine how the story shapes around those elements. Before I start writing, I often read over what I wrote last to make sure I like it, and that it flows well. This usually produces some changes/fixes, and gets me in motion to continue writing.
Sometimes, though, I have no idea where the story is going, and this lends to comedy the best because some pretty off the wall ideas come from it. When I come to the point where I ask, "Where am I going with this?" that's the best time to think of something funny.
Do I listen to music when I write?
I'm so glad you asked! 🙂
I love music, and most of the time I'm listening to music while writing. Many times, I also put my headphones on, and never listen to anything (it's strangely effective for keeping me focused, and getting me into the story). Most music I listen to has minimal words, and I'm always looking for new-to-me artists.
I also love sharing music with others since my taste is unique from what's popular. Here are some of my current favorite albums:
Or if you want a giant playlist of albums I thought were remotely decent to listen to, and may want to listen to later, here's my Spotify playlist of things I tend to return to. Yahoo. This is actually lacking most of my favorites, however.
What do I value in my writing?
Writing is a serious thing. I write with my values in mind, and consider what I'm putting in front of other people. I may deal with serious issues, or funny topics, but my work will mostly be family friendly (PG-13 if we're talking movies). As an example, my work will never have graphic sexual content in it because I believe it plays too strongly on people's emotions. I don't promote excessive swearing, though I do use the word "damn," and "shit," on occasion. I'm not here to condone such use, but you won't see me selling it's overuse.
A common theme you will see in The Inevitable series will deal with control. I have found, in my life, that the more I–or someone else–tries to control my circumstances, the worse life becomes. Relationships crumble under too much control. Groups fall apart when member's lives are controlled. Governments with too much control are rebelled against. Nature dies when we try to take control. This is serious business, but how much do we realize it?
When it comes to the humor of my Hammer and Wails books, I try not to be offensive. Try*, as I can't guarantee that I'll always be successful. I like to stay away from political topics too. You're not going to find current day references to things like white supremacy, or liberal agendas. But I'll still touch on general topics that deal with the human condition. Poor vs rich, for example, is a valid strife that has been happening since the beginning of time. Also, if you haven't noticed, I attempt to leave out racial descriptions. This way, the reader can picture any character however they wish.
Do I work outside of writing?
I'm a Handyman! You better believe it!
Yup. My main work at the is doing odd-jobs for older folks. Handyman stuff, yard-work, cleaning things, moving things around the house . . . . It's great work because I get to work with great people. I set my own hours, decide who I work for, and I'm allowed to work on other projects like writing!
Do I work on other projects?
I have a hobby of insect photography. You can see my photos on my public Facebook page. Though its been a while since I made time for it, insects are something that still remain dear to my heart.
www.facebook.com/EverythingArthropod/
I believe in treating all things with respect, even the little ones. It makes me very sad that most people consider insects as "gross." The truth is, they are absolutely amazing. My respect for how nature works without our meddling, will come through in my writing as well. And yes, even raccoons should be respected, even if they're incredibly mischievous in my books.
What's my writing education?
My writing education ended in high school. I took some other classes in college, but they were more about discussing themes than learning how to write. My last real class on learning the skill was AP Composition. However, AP Literature was the most valuable class I ever had, and my teacher was excellent. That class was honestly the hardest class of my life. I always thought college was going to be harder, but my college classes couldn't compete with AP Lit. Though it prepared me to write well, it wasn't until six years later that I would start to really write.
Then, I have to consider the many years of working on all my books and growing from that. I've gotten pretty good at teaching myself, and scouring the internet for free information about best practices. I'm a person who learns by doing, and each draft was a learning experience. So for me to truly understand writing, I had to do it. My writing critique group also is largely influential to the readability of my novels. Critiques push me to write better and better, and to learn from my previous mistakes.
Do I have a writing group?
I have an excellent writing critique group that I go to once a week. Each person shares a chapter or two of their work, and we fix mistakes and give critique. It has been incredibly valuable to have people raise questions and problems with my writing, while offering potential solutions. We're not afraid to say something isn't good, which is exactly what a good author needs to hear. Writing is a process, don't assume it's perfect on the first draft. After our group, several of us go out for lunch and solve the world's problems. Oh, and the members of my writing critique group are all 40+ years older than me!
I am! I have a little story to go with this bit, but first, I'll say that it was not my intention to self publish in the beginning.
My local library has author nights from time to time, and I try to make it a point to go to them. Well, one night, they hosted Oregon author, Warren C. Easley. During his talk, he mentioned that his editor convinced his publisher to use a different title for one of his books. The thing was, he told us the title he had come up with, which I thought was much better than the one the publisher decided on.
When he said that, I got what I like to refer to as an instinct. My instinct said to me, "Don't do traditional publishing like you have been planning this whole time." And I said to my instinct, "I like entrepreneurial work, so why not."
Then I considered what agents and publisher are looking for when accepting work. Most of them want to see that you already have a platform and followers. But if I have to put in the work to build a platform, why not self-publish and earn higher royalties on the sales I earn?
Now I'm self published. I strive very hard for my work to be a standard someone would expect from a publishing house, if not better. A reader shouldn't know it's self published by reading the book. Would you have guessed that I created my entire website too? Built an author brand? Recorded audiobooks that compete with the best? I'm a one man show. And boy do I wish I had a team to do all this work.