Subscribers Get a Free Audiobook. Yahoo!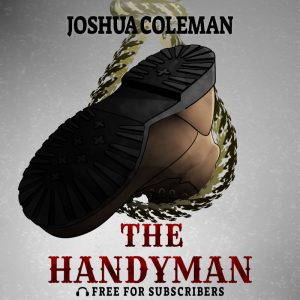 A Post-Apocalyptic, Dark Comedy
Paul wanders The Wasteland looking for work as a handyman, but he's mistaken for a murdering maniac known as The Handyman, who's destroying one town after another. It makes finding work and staying alive difficult for Paul when, at the sight of a simple hand tool, all the paranoid locals jump for the nearest weapon.
By signing up to my newsletter you get access to a free audiobook, exclusive to subscribers only. You'll also get emails about my books and what I'm working on. Expect an email from me no more than once a month (after the welcome emails). You can unsubscribe any time.
FAQ: You have questions. I have answers